Once you have decided to move to Estonia as a digital nomad, here are things you should consider. Digital nomad benefits can be excellent, it's not too hard to find inspiring photos on Instagram. But besides taking photos on bog walks or working in a hammock in Hiiumaa, there are different remote work pros and cons to think through. After meeting many digital nomads abroad and talking with nomads who live in Estonia, here is my take as an Estonian.
Why should you consider moving to Tallinn or Tartu?
When you move to Estonia, you are most likely considering moving either to Tallinn or Tartu, which are the biggest cities. The main and most important benefit of moving to either of these cities is that they are equipped with several co-working spaces. These can be super helpful if you prefer to have a designated spot to work in and to build up a rhythm outside of your home. Both of these cities have a decent startup scene and many events for their founders and employees in English. That's a huge benefit for a digital nomad without Estonian language skills!
You can also find a bigger choice of cafes in Tallinn and Tartu, where you can easily hang out with your computer. Plus enjoy people-watching when your mind wanders off. Pärnu, Kuressaare, and other cities have at least one co-working space in the town, so these might be an option as well.
The digital nomad lifestyle can be a roller coaster
If you like roller coasters as I do, then it's probably an exciting headline. But if you don't, then hold on to your seat. When you move to Estonia, your first task is to find accommodation. For short-term AirBnb or Booking offers great help. You can also try to find something through local real estates sites like kv.ee or city24.ee. What you should know in that case is that it's not common to find shared apartment deals there and as a piece of good news – most flats come already fully furnished. There are also different accommodation groups on Facebook. Getting in touch with a broker is also a good idea since usually you have to pay the same amount of broker fee no matter if you find it online yourself or have a broker find it for you. Usually to sign a rental contract you are expected to pay the broker fee+ first month's rent+ deposit fee, which is traditionally the same amount as the first month's rent. You can also check out some of the hotels that offer long-term deals like Hektori.
Work from anywhere drawbacks – the local language
Let's talk about one of the most frequently mentioned roadblocks that expats in Estonia face – the Estonian language. In this article, you can find the favorite words of internationals living in Estonia. If you go through the list you might notice that these words are.. so different from any other language. The good news is that you can manage English pretty well. You can easily visit cinemas and watch movies on the TV thanks to everything using the original voices and dubbing not being a norm in Estonia. If you wish to give the Estonian language a try, here are a few options to get started: get yourself a private teacher, study alone on Keeleklikk, download Speakly language learning app, or book an online consultation with the International House of Estonia to determine the best study method for you.
With who can you hang out in Estonia as a digital nomad?
This is an important reality check, when you are just traveling you usually pump into other travelers like you. When you are a digital nomad, it is very likely that you'll meet other digital nomads, since you will search for similar services and attend English-speaking events. So if you would like to meet Estonians, then my advice for you as an Estonian, would be to go to places where Estonians hang out! And be prepared to feel super uncomfortable doing it. These are true freelancing advantages and disadvantages. The sad truth is that if you want to find local Estonian friends, you are the one, who needs to step out of your comfort zone. Luckily as I mentioned most Estonians speak decent English, so if you go to a smaller concert, to a sports class, to a running meetup, or to a breathwork festival, it is very likely that someone can translate what's happening – and that friendly someone could turn into your first Estonian friend 🙂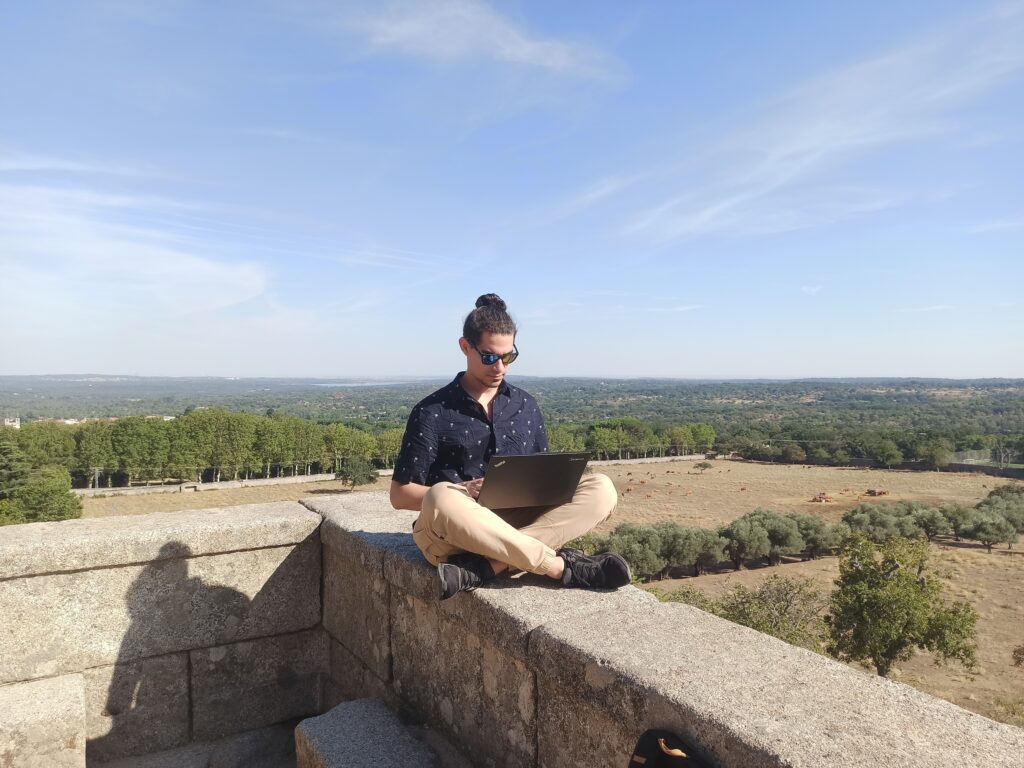 Is Estonia a safe country?
This is a valid concern. Especially if you haven't traveled to East European countries a lot and you see Estonia being located next to Russia. Being grown up in Estonia and being a local, I can say Estonia is a peaceful and safe country to live in long-term and as a digital nomad. In fact, it can be so quiet during the night that you don't even have to sleep with earplugs. And you can easily see young school children taking buses alone between their homes and school buildings. And in terms of any medical emergencies, I strongly advise getting good travel insurance so you wouldn't need to worry without a reason. My suggestion is SafetyWing, which is a travel medical insurance that was created by nomads for nomads. You can purchase a policy even if your trip has already started, and pause and resume coverage with flexibility. You're covered in 185 countries, Estonia included, and you don't need to let them know about your itinerary in advance. Perfect for digital nomads, who don't know where they'll be next month! Check out their website here.
When do go to Estonia?
Estonia is a European country with four seasons. Sometimes five if we count the water melting season in Soomaa national park. If you are a hammock-loving digital nomad – definitely choose the summertime. That means June, July, or August. These are also the months when you can find lots of music festivals, home-cafe festivals, outdoor street markets, and long summer nights. If you are feeling lucky and don't mind a bit of cold wind here are there – May or September might be beautiful and warm, but they might also be rainy and gray – you never know. In regards to October and November – these months are cooler, greyer, and rainier, so you be prepared for lots of indoor events. December is Christmas month and usually has snow and charming Christmas fairs. The good thing about January, February, and March is that you can see daylight getting longer and longer. And after a long dark winter that's the thing that everybody talking about! You can also try winter swimming, skiing, and sledding during that time because these months usually still have snow. What's the verdict about the time to come? I will leave it for you.
How to prepare for moving to Estonia?
Here is my advice: book your ticket, pack clothes for ALL KINDS of weather situations and listen to the Found in Estonia podcast while coming over! See you in Estonia.
Write in the comments what is your advice for digital nomads coming to Estonia!