Would you say dairy products are special in Estonia? – This is perhaps one of the most surprising facts about Estonian food, which we learned from our guests in the podcast Found in Estonia.
So what is so special about Estonian dairy products? American guy Chris explained, that it's just such a relaxing isle inside grocery stores! Do you agree?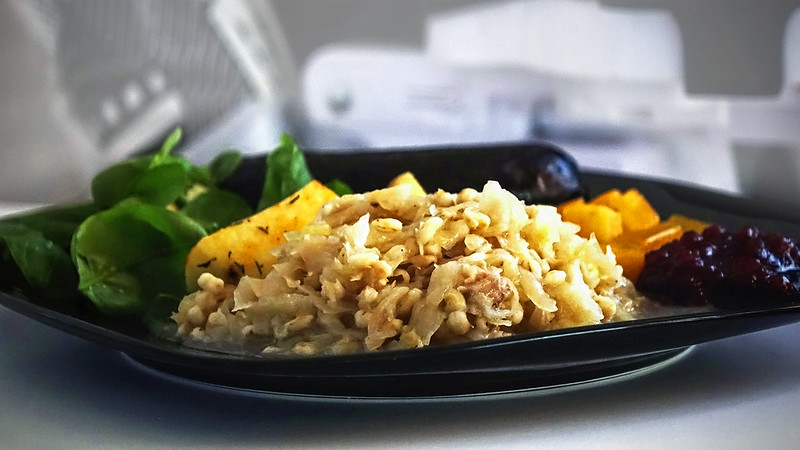 In general, most foreigners had to think hard over the fact – what even is real Estonian food? It seemed to be a more difficult task than anticipated. Since the food table in Estonia is quite a mix from our historical backgrounds – some Russian dishes like dumplings with sour creme, garlic bread, red beet salad and -soup, buckwheat, meat jelly, and kvass. Some from Germany like potatoes with meat, sauerkraut and pickles, gingerbreads, different bakery products, and yogurts. And few food items, that are hard to tie to a specific country like blood sausage, "kohuke", black bread sandwiches with herring, barley groats, and "kama".
What would you add?
Here are some ways, how we heard different people from various countries described Estonian food:
"You guys don't like spices too much. Most of the Estonians that I've met, tend to eat their food just the way it is."
"It's sometimes a bit limited, it's always potato salad."
"Estonian food is not so different from German food or Latvian food"
"Food is quite monotone here."
"Milk is different – it's tastier here!"
"I think Estonians have a lot of things with sour creme".
"They say here if you have potatoes, you don't have to have rice in your dish."
"In general Estonian food is meat and potatoes."
"Something curious here is the hot dogs – when you have a hot dog with the sausage in the middle of it. That is something curious."
"I guess Estonians and maybe Scandinavians eat for survivor and Latins and Brazilians we eat for pleasure."
"Meat jelly sounds wrong. It looks funky."
"Kali" – that's really delicious, it's the drink made from black bread, uh, it's really tasty and also something strange"
"I wouldn't say there is something Estonian. There is borš, rosolje."
"The food is quite similar, I didn't experience any impact. I love how for Christmas they do these hapukapsas, boiled in dark beer. I sent the recipe to my mom as well."
"There are not all the spices here, there are a lot of options. I tried to create some of that on my own, but we don't get the same ingredients."
"I like kama and kefir very much and I was trying to be more Estonian – for the next 3 months straight my breakfast was kama and kefir and I was basically dying.."
"With blood sausage, I think it depends, who makes it. The first time when I tried it, I thought wow this is weird. But it was more of the texture. I tried the smaller one and it was perfect."
"Kõrvits was also weird when I tried it the first time – pickled pumpkin."
"I actually came back from Finland, because I appreciate Estonian food more. It has more taste, even small things like juustuvorst (cheese sausage)"
"I love black bread – all versions of it. Especially with these seeds!"
"I used to think that only boiling rice and eating, it was like, you know, just, just an Asian thing, but it's also common here."
Your pies are like a kind of cake thing. Like your cake is also like, I don't even know. We don't even have the thing that you call cake."
"You also eat a lot of berries – gooseberries, black currents"
"I really love this bread thing – kohupiimatasku! – it's extremely good. I was crazy about it almost 2 years now."
And some practical advice for anyone wanting to try typical Estonian food, but doesn't know what and how to cook:
"Something that other foreigners should try? Go to the daily offer and try the foods, that they have there in their cafeteria. Actually, it's quite nice."
Let me know in the comments, what else do you consider as Estonian food? And how has your experience been with it?