What to do in Estonia today? How to go hiking in Estonia and to where? How to find the most epic places to hike in nature?
It's something that we ask at the Found in Estonia podcast all the time. Our guests are foreigners who live in Estonia. As newcomers are often more curious and adventurous than the average person, who has already lived in the same spot their entire lifetime, they can often recommend some hidden gems in Estonian nature and their favorite spots to relax in Estonia. 
Where can I find a bog?
Estonian Wetlands – Swamps, Marshes, and Bogs are a big part of Estonian nature. Locals love to go hiking in Estonia and there are numerous possibilities for that. Many expats, who have been guests at the podcast, have highlighted that walking in the forest or a bog is a must-do in Estonia. It's incredibly easy to spend the afternoon in a forest here. If you know where to go.
One of the best resources for finding nature trails in Estonia is the site Loodusega koos. It's powered by RMK (Riigimetsa Majandamise Keskus) – RMK is the keeper, protector, and manager of the local forests and other natural biotic communities belonging to the Republic of Estonia. RMK establishes opportunities for nature walking, keeps them in a good state, and raises nature awareness. 
Another good resource, shouldn't come as a surprise – it is Google maps. Just type in "matkarada" (hiking trail in Estonian) and choose the one you want to start exploring.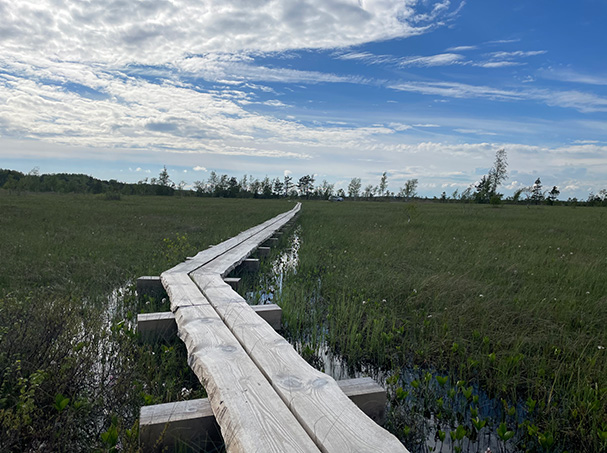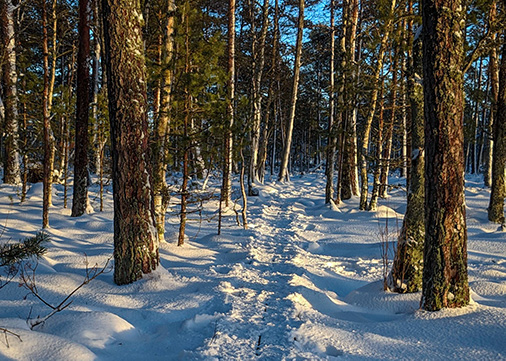 Is camping free in Estonia?
Simply put yes. All RMK trails are free to use in Estonia. And usually, it's marked on the site and their page, whether there are spots for camping as well. If it's marked it's free to use. Sometimes there is strange-looking wooden shelter nearby – these buildings are also meant to provide an extra possibility for a sleepover. So in case you are thirsty for a real Estonian nature wilderness experience, find yourself a tent, a sleeping bag, and a sleeping mattress. Also maybe even a pillow and head over to "telkimisplats" (area for tenting). It's always a good idea to check the weather beforehand – it's a lot nicer to camp when it's dry and sunny outside 😉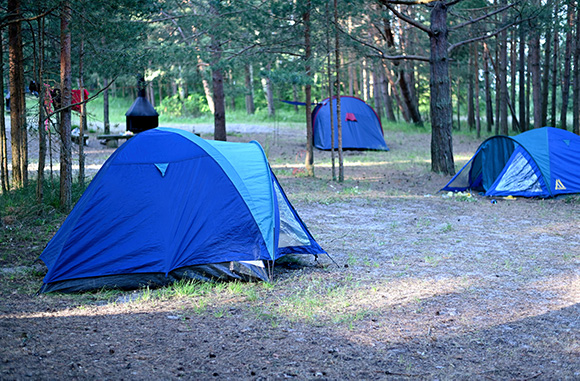 Can I take the bus to a hiking trail?
Sadly the public transportation is not hiker-friendly in Estonia. Meaning you can take the bus or train with all of your gear for sure, but to get to the starting point of any trails is tricky if you don't have a car. 
Do you have to have a car to go hiking in Estonia? 
Not necessary. If you have a car it makes your life a lot more comfortable. That said if you have a driving license but no car, we have many convenient car rental services in Estonia. Check out Autolevi.com, Electrical car rental Elmo rent to rent a vehicle for the whole day. Or check out Bolt Drive and Citybee apps to rent a car based on the minute fee. These two also have full-day rental options. 
If you don't have a driving license, the best option is to find a friend who does and make your hike together – let's be real it might be a nice opportunity to bond with Estonians – spending a whole day together can warm up even the coldest Estonians 🙂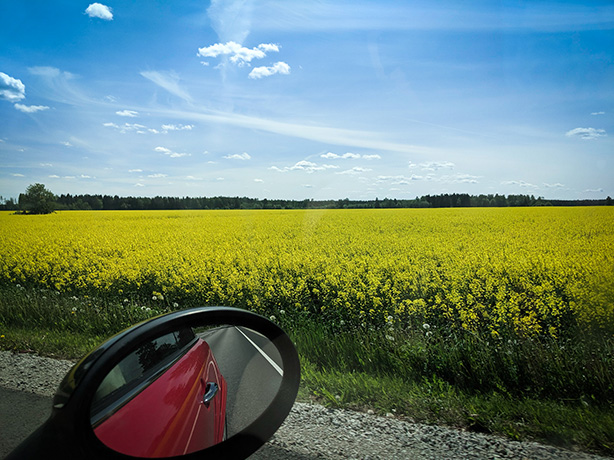 Best hiking places in Estonia?
We asked our listeners and Found in Estonia community and heard the following suggestions: 
Besides the most popular places: Kakerdaja raba and Viru raba, which you might have already heard of. Here are 5 TOP recommendations for exploring nature in Estonia:
Tolkuse – short bog walk in South of Estonia, entails spots for swimming and a lookout tower.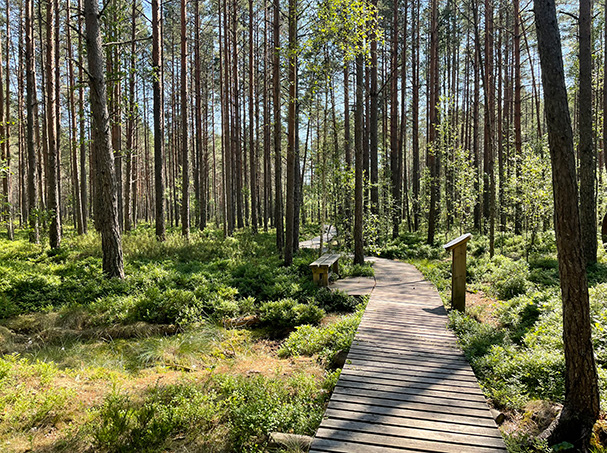 Majakivi trail – this one combines all four aspects – calming forest walk, enormous lookout tower, offering views to the sea on one side and a forest on the other side. A wooden trail in the bog, and even the second biggest boulder in Estonia! Wow! There's a ladder helping you to climb up and have a better sense of its size! Friendly warning – this rock is so big, that it's pretty difficult to take a photo with both of you in full representation :'D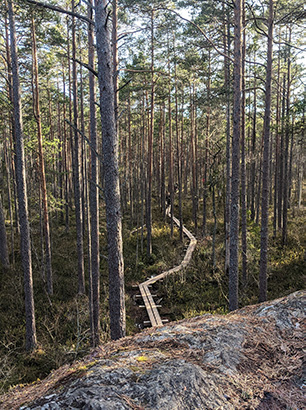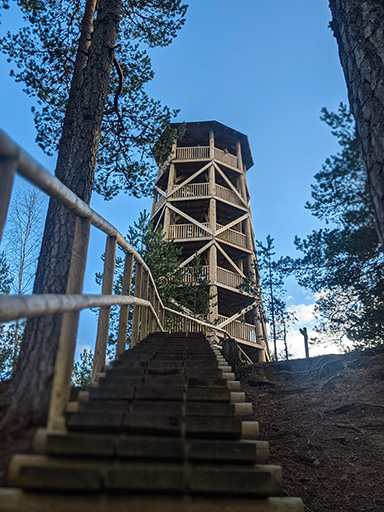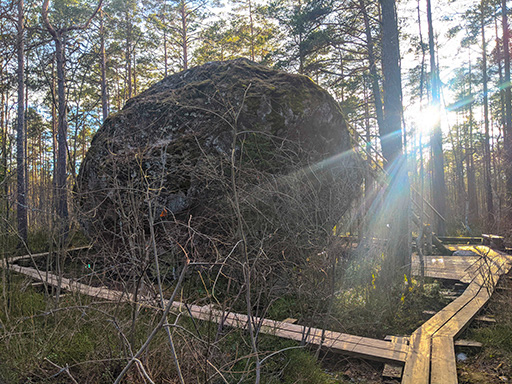 Kaberneeme seaside blows people away with its breathtaking waterfront. It has a truly magical feeling to stand below giant pine trees AND have your entire horizon filled with endless water.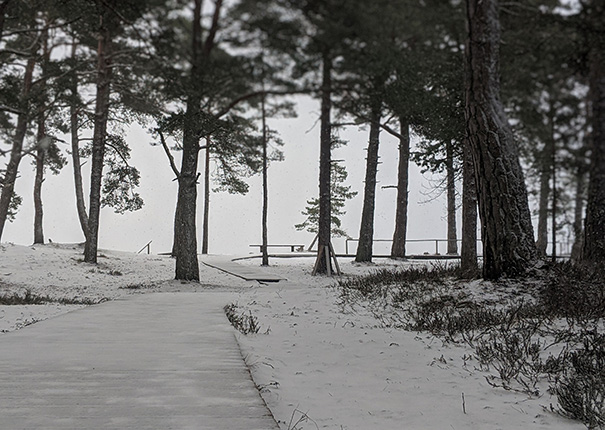 One of our listeners shared that his favorite area to go hiking is in Nõva. Located in the North-West of Estonia. No, you won't see the famous child of Kim Kardashian there, but what you will discover is a magical pine forest, sandy waterfronts, ancient stone fossils, and air, that feels like there can't be any more level of pureness.

For someone, looking to make around a 1,5h walking hike, there are two suggestions. Paunküla and Paukjärve trails consist of both a trail through the forest and take you along a beautiful lakeside. 
What is so special about Estonian nature?
Wait a minute – are you now wondering, but why on earth should I even want to spend time in nature? Most Estonians call themselves more of a "nature person" than a city person. So simply put if you want to understand Estonians better – spend time in their favorite spots, absorb the calmness, fill your lungs with fresh air, watch the magical views that nature changes offer, and recharge your batteries. Now come back to the city and notice if anything inside of has changed! And if you don't have time to go outside of the city often? Then we recommend reading this article explaining Estonian sauna traditions next!
Let us know in the comments what do you like most about hiking in Estonia and what are your trail recommendations!